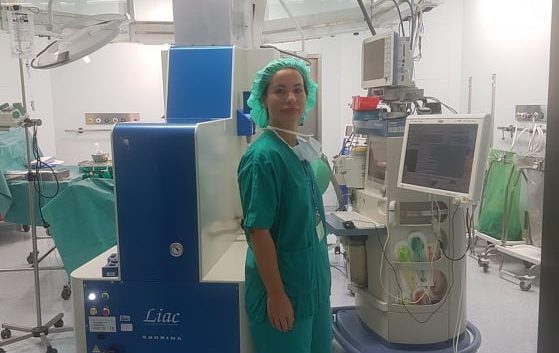 01 Jul

Successful Pioneering Surgery To Treat Breast Cancer By Dr. Ioanna Galanou

The pioneering surgery to treat breast cancer in a young 38-year-old patient was performed with complete success.

The operation was performed by breast surgeon-mammologist Dr. Ioanna Galanou at the MITERA hospital, with a technique she has repeatedly applied to her patients at the certified breast center of the European Research Oncology Center (Clinical Trial Center) Regina Elena IFO, in Rome, with her surgical team.

CASES of patients in which this innovative technique can be applied are:
In women who have multicentric cancer, i.e. they have cancer in more than one part of the breast in different quadrants and a lumpectomy, i.e. local excision of the cancer, cannot be performed.
In women who have a large tumor in one part of the breast and cannot respond to preoperative oncological treatment and for oncological safety, this technique is recommended.
It can also be applied in cases where chemotherapy has been done before surgery (pre-operative or induction chemotherapy). Chemotherapy can also be done after the specific surgery.
Chemotherapy can also be done after the specific surgery.
In women with heredity for breast cancer and gene mutation (for example BRCA1, BRCA2, ATM, PALB2, etc.) subsequent gene control.
It is an ideal technique for women with medium, large or sagging breasts.
For women who want an excellent oncological result with a very good cosmetic result in ONE surgery.
This is a mastectomy with areola and nipple preservation, a sentinel lymph node biopsy with a double technique, reconstruction with a permanent insert without the use of mesh and with 2 options
or reconstruction at the same time in the contralateral breast, in the event that the contralateral breast is not affected, for reasons of symmetry with a very good aesthetic result
or a double mastectomy can be performed following this specific technique if there is an indication.
During the surgery, a special bipolar material is used so that the patient does not lose blood and the surgery is bloodless. This is confirmed the day after the surgery with the patient's good general blood test.
The ADVANTAGES of this modern breast surgery are:
The patient ONLY has one surgery a year with a very good cosmetic result.
The woman retains her own nipple without the need for medical nipple tattooing or grafting from other parts of the body. 2 rapid biopsies are taken during surgery behind the nipple and in the central sector gland to ensure oncological safety
Expensive meshes (ADM/MESH) which can be rejected by the same organism are not used because they are recognized as foreign bodies and could create many problems in the postoperative stage. Meshes cannot be used by all categories of patients.
Full coverage of the permanent implant with autologous tissue.
A permanent implant is placed in the area under the muscle.
24 hour hospitalisation.
No stitches – Plastic restoration technique, no stitches need to be removed.
Pain Free – No pain medication is even prescribed upon discharge.
No blood loss – No transfusion required. No blood donor required.
Immediate mobilization of patients.
Fast feeding – Free diet from the afternoon of the same day 3 hours after surgery.
Fast recovery.
Rapid full return to daily activities and work in a very short time.
Minimizing the post-operative complications that sometimes accompany traditional surgeries.
Experienced permanent Anesthesiology Medical team with special scientific interest in breast operations.
Selected Clinic that provides comprehensive care for the patient, having top scientific potential, state-of-the-art infrastructure and state-of-the-art surgical equipment.
Personal care, in a pleasant and friendly environment.
Excellent cosmetic result.
The surgeon must have the ability to combine art and science, i.e. imagination and logic, in specific pioneering procedures. It requires precision and sharpness in the execution of the work, skill, experience, sensitivity and imagination. With these procedures, the surgeon can not only heal, but restore the suffering fellow human being to the internal and external balance by shielding their psychology.
Dr. Ioanna Galanou warmly thanks her surgical team, the oncology department of MITERA, the anesthesiology medical team and the nursing staff. In such surgeries, in order to have an excellent result, the team counts.
Dr. Ioanna Galanou
Breast Surgeon – Mammologist
REGINA ELENA IFO European Oncology Center, Rome
Scientific Associate MITERA