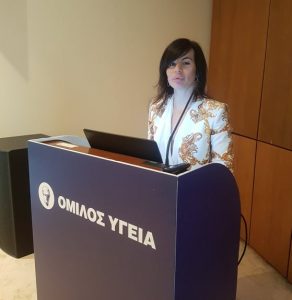 Breast Surgeon Dr. Ioanna Galanou has a specialty in General Surgery and specialization in Breast Surgery in oncoplastic and reconstructive breast reconstruction.
She practices breast surgery in Athens and Rome.
Dr. Galanou has many years of experience as a Supervising Breast Oncologist Surgeon in thousands of certified surgeries. After a competition and exams in the Italian public sector in 2013, she joined the specialized and certified Breast Unit at the Regina Elena IFO European Oncology and Research Center in Rome, which is considered one of the best European Oncology Centers and Clinical Trial Centers (CTC). At the center, thousands of surgeries are performed every year to treat breast cancer, using state-of-the-art and innovative techniques. Clinical Trial Centers are certified centers that treat the patient with special protocols, with the most sophisticated treatments that are applied in a few oncology hospitals due to the strict conditions they must meet.
Dr. Since 2010, Galanou has operated a special Robot that performs radiation therapy during breast cancer surgery.
2010 ACOI Master. Practice in the best Breast Unit in Italy.
2013 and 2015 Practical course in Breast Reconstructive Surgery at the European Oncology and Research Center Regina Elena IFO in Rome.
2018 Head of Breast Center Diagnostica Nuova Florida Ardea, Italy.
2018 European Oncology Center IEO in Milan – Training in intraoperative radiotherapy (IORT) for breast cancer.
2018 Training at the University Clinic CLINICA UNIVERSIDAD DE NAVARRA in Madrid with the most advanced Robot in intraoperative surgery for breast cancer.
2019 Masterclass of the European Oncology Center GUSTAVE ROUSSY in Paris "PARIS BREAST RECONSTRUCTION MASTERCLASS".
In 2019 she became the Director of the CLINIMED Breast Center in Cecano, Italy.
2020 Vice President of Health OLYMPIADES department of the Daughters of Penelope Achaia.
Dr. Ioanna Galanou continues her collaboration with the REGINA ELENA IFO European Oncology Center in Rome where she has participated in many research projects on breast cancer.
She has international writing and conference presentations and has been awarded a medical award in Rome (through Prevaer and ADR).
Member of several breast societies at an international level (EXEM, EUSOBI, EUSOMA, E.E.A.M).
Mastologist of the Italian charity INCONTRADONNAONLUS.
Since 2019, Dr. Galanou divides her time between Italy and Greece, wanting to transmit the new surgical techniques to women who need them in her home country.
Since 2019, she has been working as a Surgical Supervisor at the EUROCLINIC OF ATHENS and as a scientific associate at MITERA hospital.
For her, a human-centered approach to the patient with individualized treatment, quality hospitalisation and personal care is essential.